New York City Luxury Residential Property Prices Will Fall
Prices for expensive New York real estate have been falling for three years. The market for expensive luxury real estate is saturated with new projects, about 20% of apartments built in the city between 2013 and 2019 remain unsold. The luxury real estate market in New York has developed enormously thanks to the activity of super-rich buyers from all over the world, including us-citizens. However, weak sales in recent years, with increasing supply even before the pandemic, made it possible to further reduce prices. In the United States, the coronavirus can provoke very serious consequences in the economy, the danger of a repeat of the great depression is now being discussed at the highest level. The fall in the stock market has hit the savings of typical local buyers of New York luxury real estate, namely representatives of the financial sector (investment bankers, stock market players, hedge fund managers) very hard. Local market experts point to the fact that the real estate market in New York today has a greater chance of falling than even in 2008. It is the prices of apartments in elite residential complexes that have a chance of the most dramatic decline.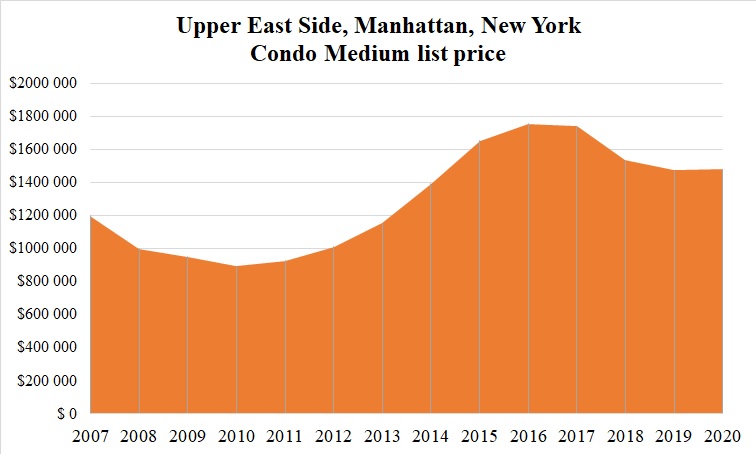 We collected data on prices in one of the most expensive areas of New York, the Upper East Side, located near Central Park. Since 2016, real estate prices in the area have fallen by more than 16%, even as the US economy grew rapidly during the same period. Many developers of elite residential complexes traditionally try not to spread information about price cuts, while in 2019, more than 70% of apartments in new buildings in Manhattan were sold at 6-10% below the display price. Unfortunately, reducing the key rate and, as a result, reducing the cost of mortgage loans will not be able to correct the situation. Experts expect a decline in prices for luxury real estate in New York at least 10% in 2020 and the supply of this process in 2021. The general uncertainty does not allow us to assess the depth of the fall in prices for luxury real estate.